The Nation, Thailand, June 28th 2018 – Thailand fast tracks the Riviera Project to promote coastal areas – excellent news for Hua Hin, Pranburi & Samroiyot, we hope
The story below is taken from the Nation article:
Under a comprehensive Master Plan prepared by the Ministry of Tourism and Sports, the provinces of Phetchaburi, Prachuap Khiri Khan, Chumphon and Ranong will be upgraded under the "Thailand Riviera" scheme to tap their full potential for natural, cultural, historical, gastronomic, sports and community-based tourism.
The Tourism Authority of Thailand (TAT) will spearhead the marketing push of the area with the focus on generating tourism revenue for the residents, communities and local businesses in the four coastal provinces.
The Thai government and related agencies will be closely involved in all aspects of tourism management, conservation and restoration in line with the policy direction of the National Tourism Development Plan to more equitably distribute income nationwide, upgrade rural areas, provide better accessibility, and improve facilities and services for visitors.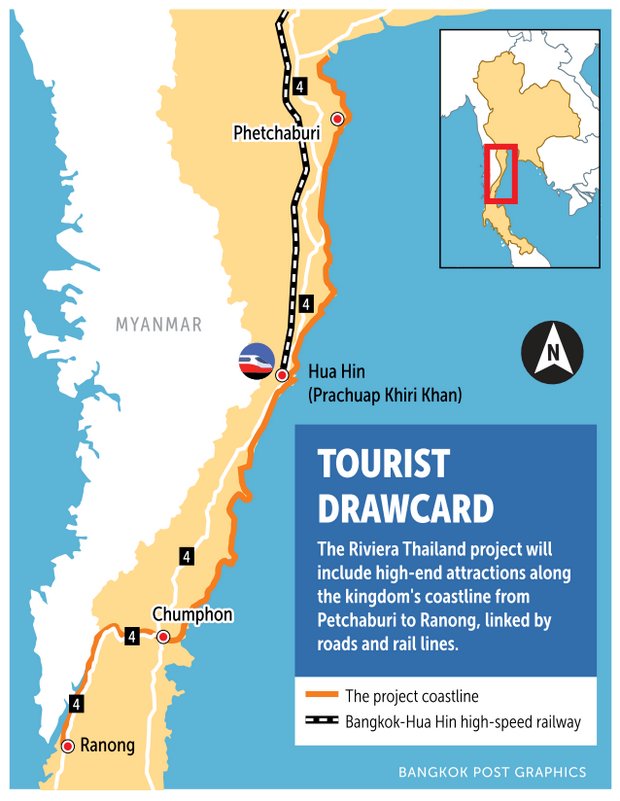 The Master Plan shows that the four provinces have diverse tourism assets, as follows:
25 national parks and water parks;
528 Kms of coastline;
37 beaches, 10 bays, and 25 islands;
70 Royal Projects and Royal Initiatives;
6 community-based tourism projects.
Man-made attractions include several golf courses, theme parks, numerous community malls/outlets and a variety of Sports Tourism facilities suitable for triathlons, marathons, swimming, biking, mountain climbing and canoeing.
Hua Hin, the best known beach resort in the region, also holds an annual Jazz Festival, alongside a boundless choice of culinary fare and gastronomic delights.
There is also more than adequate transportation access:
Land: Highway No. 4 (Phetchkasem Road);
Sea: Ferry Service linking Khao Takiap pier in Prachuap Khiri Khan and Bali Hai Pier, Chon Buri.
Air: Hua Hin Airport, Chumphon Airport, and Ranong Airport.
Railway: Southern route.
Minister of Tourism and Sports Mr. Weerasak Kowsurat stressed that the entire development process must be implemented in a comprehensive, coordinated manner that pays equal attention to economic and ecological issues.
For example, infrastructure development will be especially important to ensure proper fresh water supplies and prevent water conflicts between the agriculture and tourism sectors. The platform of the Hua Hin Railway Station, a local heritage site dating back to the days when it was used by members of the Royal Family visiting the Mrigadayavan Summer Palace of King Vajiravudh (Rama VI), will be upgraded to reflect its unique design and architecture.
The plan also mentions opportunities for visitors to enjoy the local seafood, adventure activities and ecotourism, and the development of night markets, especially for local artists to showcase their works.
Specific niche-market projects will include development of the Thailand Riviera as a "Global Health Tourism Hub", organisation of world-class sporting events for golf, tennis, shopping festivals, and world-class summer education courses.
The visitor experience will be enhanced by upgraded stops at petrol stations with clean toilets, lockers, luggage storage, CCTV and Wi-Fi.
The plan has long been in the cards, but implementation was delayed due to successive changes in governments. It was originally approved by the Thai Cabinet in February, 2006, and again in August, 2014, when the Ministry of Tourism and Sports was given responsibility for executing the plan in an integrated and coordinated matter.
Under the current Government, the plan was approved once again on March 6, 2018, at the mobile Cabinet meeting in Phetchaburi province. One important part of the project has been construction of a scenic 680-km highway from Bangkok, which runs directly along the coastline. The world-class highway, which will include bike lanes, is expected to be completed in five years. About 200 km have been completed. A 49-kilometre stretch is currently under construction.
In 2017, the four provinces received a total of 14,023,347 Thai and foreign visitors, a rise of 4.52 percent year-on-year. The average expenditure per trip per person was 5,141 Baht, generating an estimated 72.105 billion Baht in tourism income (up 8.85 percent year-on-year).
On June 1, 2018, Mr. Weerasak also enlisted the support of the UN World Tourism Organisation (UNWTO) in a meeting with Mr. Zurab Pololikashvili, the UNWTO Secretary General. The UNWTO has undertaken to provide technical and marketing support.Mr. Weerasak notes that the Riviera project will have nationwide benefits thanks to the launched ferry service from Hua Hin to Pattaya, which has cut travelling time by more than six hours between the West and East coasts of the Gulf of Thailand.
SOURCE: http://www.nationmultimedia.com/detail/Travel_log/30348819
Related Posts
Owning a beachfront property can indeed be an enjoyable and decadent experience,…

Top 3 things about living in Hua Hin (not to mention, high…

Neat website: https://pranburipropertylisting.com/